Head, Vulnerable and Disengaged Youth Research
MD, MBBS, BMedSc, FRANZCP, FFPH(UK), FAFPHM
Helen Herrman is President of the World Psychiatric Association (WPA) 2017-2020 and Director of the World Health Organization (WHO) Collaborating Centre in Mental Health, Melbourne. She is Professor of Psychiatry at Orygen, and The University of Melbourne, Australia. She has received the award of Officer of the Order of Australia.
She is a member of The Lancet Commission on Global Mental Health and Sustainable Development, and chairs The Lancet-WPA Commission on depression due to report in 2020. She is co-chair for the World Economic Forum Global Future Council on Technology for Mental Health 2019-20.
In the past, as Professor and Director of Psychiatry in St. Vincent's Health Melbourne she led the development of an integrated area mental health service under Australia's national reform of mental health care. For one year she acted as regional adviser in mental health for the WHO's Western Pacific Region. Her research and practice interests in the fields of community mental health care, promoting mental health and women's mental health include the mental health of marginalised groups such as young women and men living in state care. She leads the WPA's action plan 2017-2020, concerned with supporting the contribution of psychiatrists to global mental health.
RESEARCH INTERESTS
Vulnerable and disengaged youth, community mental health, mental health promotion.
Skilled in Government, Facilitation, Community Engagement, Leadership, and Policy Analysis. Strong business development professional with a Doctor of Philosophy (PhD) focused in Philosophy from Monash University.
Claire is a Lecturer in the Conflict Management and Resolution Program at James Cook University. She also works as a facilitator for Scope Global and has a consultancy practice, Conflict Resolutions.
Claire studied a combined Economics and Law degree at the University of Tasmania with a year exchange at the Universidad de Complutence, Madrid and a summer exchange at the University of Shanghai, China. She undertook a Masters of Mediation and Conflict Resolution at the University of Queensland while working at the Australian Centre for Peace and Conflict Studies. Claire is a Nationally Accredited Mediator under the Australian Standards and a certified conflict coach with Conflict Coaching International.
Claire spent a year working in refugee camps on the Thai-Burma border as a Mediation Specialist with International Rescue Committee (IRC). Her role involved training IRC legal assistance centre staff, paralegals and camp community leaders to improve dispute resolution procedures, policing and detention practices in the refugee camps. She also spent a year working in the Philippines as a Capacity Development Officer with a local NGO, working with their institution building team to develop a training program and resources on participatory governance and gender equality and fostering active community participation in the development process.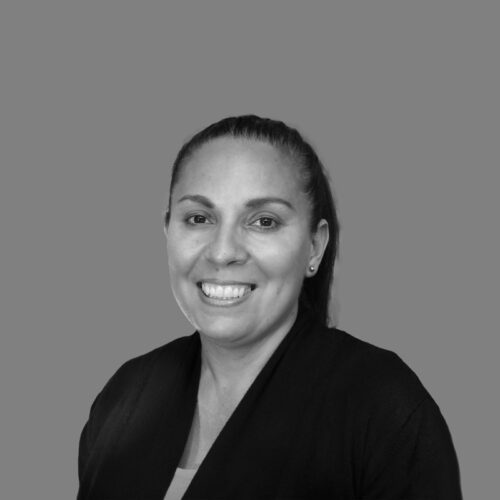 Theresa grew up in Cairns, with proud family connections to Cherbourg (Wakka Wakka) and Mount Isa (Kalkadon).
Raised by her strong and compassionate grandmother Bonnie Simpson as an only child, Theresa was consistently around her mother's younger siblings and was often mistaken for one of them. This experience as a child immersed her in the positive cultural familiy values of our previous generations and shaped Theresa into the family orientated person she is today, having two children and a large extended family.
Grandmother Bonnie one of the original house mothers that had helped establish Mookai Rosie Bi-Bayan alongside founder Rose Richards.
Theresa has worked at Mookai Rosie Bi-Bayan for nineteen years, continuing in her family's footsteps, with a passion for improving Women's Health. Her extensive experience prior to coming to Mookai extends across both the Government and private sectors where she gained expertise in business management and administration, human resources, finance and leadership.
Theresa is determined to sustain and build on the legacy left by the women who built Mookai Rosie before her. A legacy which encompasses both a professional evidence-based health care and accommodation service combined with strong and respectful cultural governance.
Arturo Harker Roa, PhD, is an Associate Professor of of the School of Government at the Universidad de los Andes. He completed his PhD in Economics at the University of California, Los Angeles. His expertise lies in applied microeconomics and quantitative public policy evaluation. In the last three years his research agenda has focused on studying the impact of adverse childhood experiences, such as exposure to crime, violence, and forced displacement, and trauma on the development of cognitive, social, and emotional abilities. Dr. Harker focuses on the design and evaluation of interventions that help mitigate this impact. His recent research projects focused on the impact of urban violence on academic performance and psychotherapy to protect early childhood in the context of civil violence in Colombia.
Katie is an experienced writer, editor, photographer and engagement specialist with more than 20 years' experience helping organisations share their stories and engage stakeholders and the public, both in Australia and overseas. Katie has also worked as a practising artist, art curator and photography teacher at a First Nations school in Maningrida, Northern Territory.
Before establishing Community Works, he was Marketing Director, Operations Director and Deputy Chief Executive of Practical Action, an international NGO that addresses poverty through technology. He was Chief Operating Officer of the Centre for Appropriate Technology, a national Indigenous organisation in Australia, and Asia Director of BasicNeeds, an international organisation that focuses on mental health and development.
Steve has been appointed an Honorary Fellow at the School of Social and Political Sciences at the University of Melbourne since 2016, where he teaches on the master's in international development. He was formerly a board member of Intermediate Technology Consultants, the Colombian Children's Foundation and Remotebiz and he was the Chair of the Mental Health Association of Central Australia.
Steve is an advisor to multiple organisations, notably Ninti One (since 2008), the World Psychiatric Association (since 2014), ConnectED (since 2018). His management expertise includes professional coaching, staff management, strategic development and attracting resources for new ventures. He has been a member of successful start-up teams that attracted major investment from multiple sources including the CRC for Remote Economic Development ($32m), the Young and Well CRC ($35m) and CitiesRISE ($14m).
Through the experiences summarised above, Steve has developed a range of specialised skills including in development practice, NGO strategy, scaling successful programs, community mental health, participatory research, monitoring and evaluation for social development programs, community development and appropriate technology. As a facilitator of over 300 workshops in a range of settings in Australia (especially with remote Aboriginal communities), the Pacifc, South and South-East Asia, Africa and Latin America, he is accustomed to working through complex issues with multiple participants. Steve is considered an ethical and considerate professional who is open, inquisitive and a critical thinker. He is a strong writer and also a fluent speaker of Spanish.
Maria is a researcher, educator and development practitioner who focuses on the intersection between mental health, social justice and cross-cultural peacebuilding. In recent years her work has gravitated towards collective impact and other community-based initiatives to improve social and emotional wellbeing. She is currently working with researchers at Monash University and Orygen Global to develop a model for training and supervising community mental health promotion workers to improve outcomes for new parents from migrant backgrounds.
Maria holds a BA in Psychology and a PhD in Applied Ethics (Global Justice). Her interdisciplinary doctoral research focused on ways of building ethical understanding across racial, national, and cultural boundaries. Her consultancy work has contributed to toolkits, policy and strategic documents for the World Psychiatric Association, StrongMinds Uganda, VicHealth, Relationships Australia and the National Indigenous Australians Agency, and Amnesty International.
Carolina is an Anthropologist. She has worked with indigenous groups in Colombia and Australia over the last six years. Fieldwork and project coordination experience and worked as a consultant for the International Labour Organisation (ILO). Interested in knowledge exchange related with environmental management and climate change, as well as processes of community-based governance.
Kirsty is passionate about the intersection of development and creativity, where the arts and creative modes of thinking can be applied to programs and project-based development and humanitarian work.
An experienced public health professional with over 8 years of experience in various settings - hospitals, nonprofit, government and WHO. Seeking opportunities to apply my research, epidemiology and analytical skills to improve health systems and implement programs worldwide.
Daniela is a Sociologist from the Alberto Hurtado University with a Diploma in Socio-Environmental Management from the University of Chile and a Master in Development Studies from the University of Melbourne. She is a thriving community development and engagement professional with over 10 years' experience promoting effective engagement processes and sustainable relations among local, state government and private sector organisations, throughout Chile and Australia.
Visual communicator with an interest in the power of design to create positive social impacts.